On the way home, we stopped in Kearney, Nebraska, just before the bad rainstorms hit.  There's a great little LYS there called The Woolly Mammoth, where I bought these beauties: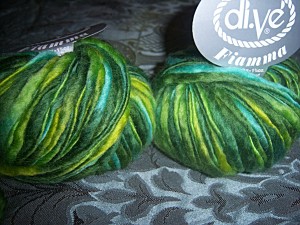 Fiamma yarn by di.vé, 100% wool, thick & thin yarn, really soft!  I love the bright greens!  I got 2 skeins.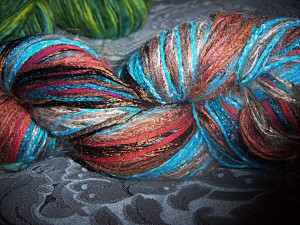 This is called Alp Light, by Feza.  It's a self-striping novelty yarn.  The skein has a dozen or so different yarns in it.  At the shop, there was a simple scarf in stockinette stitch knitted up, and each block of color was 2 to 3 inches.  I can't wait to cast on with this yarn!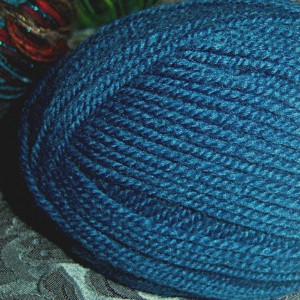 And last but not least, I bought 9 skeins of this lovely blue Plymouth Encore Worsted, for a sweater that I hope I will be brave enough to knit soon.  It was on sale 25% off today, so I got a great deal!  And I've been looking for this color for awhile now…not royal, not navy, not cornflower or country blue.  I guess it would best be described as a dark cadet blue.  Yes, I am very picky, but if I'm going to knit a whole sweater, I definitely want to have a color I'm happy with, right?
All in all, it was a great stop at a great shop, and I would recommend it to any knitter traveling through Nebraska.  By the way, Knitmap.com is a great website for finding yarn shops while traveling!  It was really fun to find it on the map and then drive there.