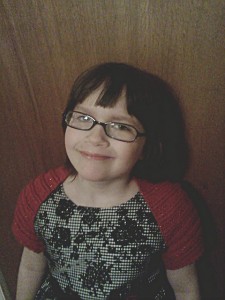 The kids' holiday program was tonight.  I bought Halle a new dress to wear
but it was black and white, so not very Christmas-sy,so I decided to knit a
quick red shrug to wear with it.  I finished it this morning. It's knit from
Red Heart Shimmer, in a simple K2P2 rib, on size 10 needles.
Shimmer turns out to be a wonderfully soft yarn, and I think I'll be using it
again soon, because I really enjoyed using it on this.  This took less than half a skein.
Since I finished the shrug early this morning, I went ahead and finished a hat
I'd been working on.  I used a stitch recipe and kind of made up a pattern.
I call this the "Waby Baby Cap"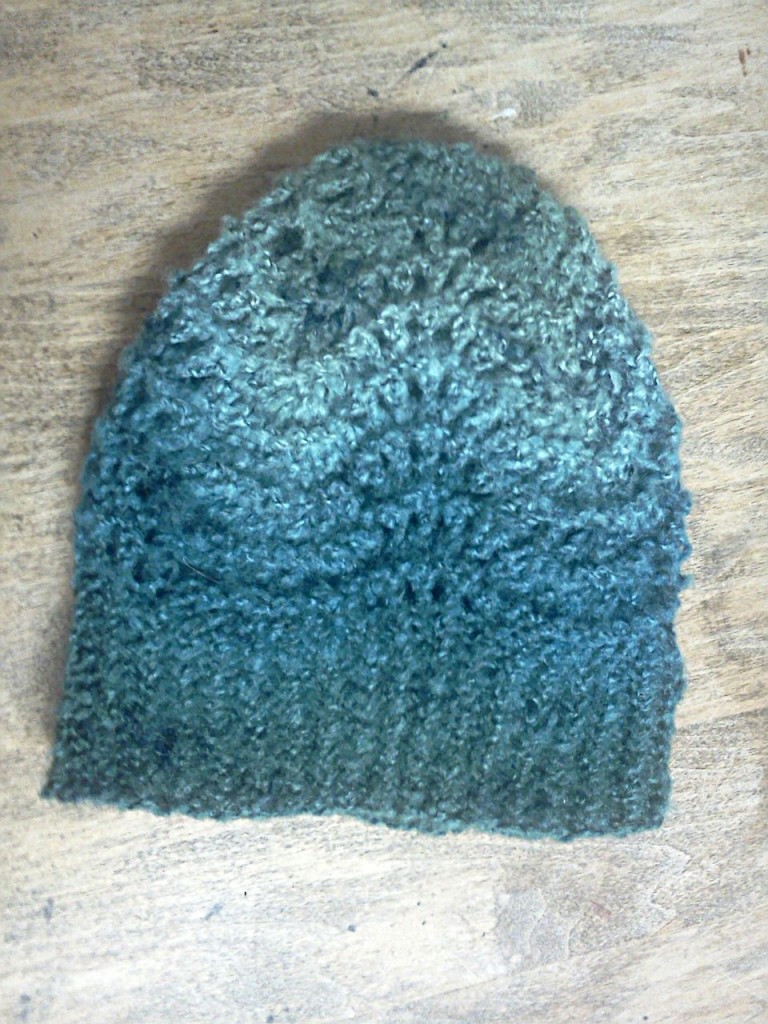 It's knit from Phildar Horizons in Fjord, which is a worsted weight yarn, and here's the pattern:
Worked flat.
Cast on 72 sts on size 7 needles. Work in K1P1 ribbing for 2 inches.
Switch to size 10 needles and follow pattern repeat:
Row 1: K2tog 3 times, K1, yo 6 times, K2tog 3 times.
Row 2: Knit.
Row 3: Knit.
Row 4: Purl.
Continue pattern repeat 3 times.
Begin decreasing for crown as follows:
Row 1: K2tog 3 times, K1, yo 6 times, K2tog 3 times.
Row 2: K2tog, K14, K2tog.
Row 3: K2tog, K12, K2tog.
Row 4: Purl.
Row 5: K2tog 3 times, yo, K1, yo 4 times, K2tog twice.
Row 6: K2tog, K10, K2tog.
Row 7: K2tog, K8, K2tog.
Row 8: Purl.
Row 9: K2tog, K1, yo 3 times, K1, K2tog twice.
Row 10: K2tog, K6, K2tog.
Row 11: K2tog, K4, K2tog.
Row 12: Purl.
Row 13: K2tog, K2, K2tog.
Row 14: K2tog twice.
Cut yarn, leaving an 18-inch long tail. Thread yarn tail on needle, and run tail yarn through open loops of last row. Remove from knitting needle. Pull through again and secure. Use remainder of tail to sew up side. Weave in ends.