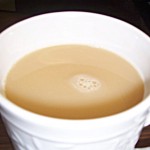 I'm just sitting here enjoying an early morning cuppa, oolong with honey and milk, after a not-so-terrible shift at work.  It's the little things that can make or break a day, isn't it?
Also, I'm really loving these stitch markers I made the other day: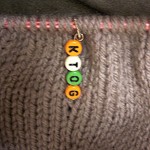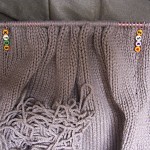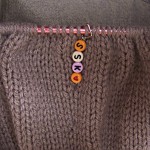 They're just those alphabet beads, left over from one of the kids' crafts, wired to a jump ring.  They're simple but cute.  There aren't any #'s though, so I couldn't put K2tog.  I think I may have some fun in the future raiding my bead stash to make all sorts of stitch markers now.
Also good news from Diana Gabaldon, my favorite author: she's writing book 8 for the Outlander series now, which is tenatively to be titled Written With My Heart's Own Blood, and also The Scottish Prisoner is due to be released November 29, just after my birthday!  Can't wait!