I've spent most of the week on the landscaping.  It's coming along pretty well I think.  I hope some of the plants actually live.  Sam asked why I keep taking pictures of all the plants.  I told him because it may be the last time we see these plants alive.  Some people have a green thumb; I have a black thumb when it comes to plants.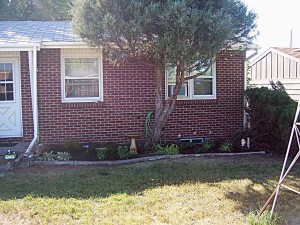 So here's what I've managed to accomplish…  I finished trimming out the last of the bushes and uprooting them.  I broke up the dirt and added a stone border along the west flowerbed.  I put in garden soil and started planting.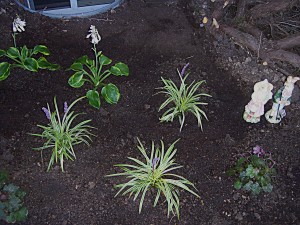 Here are some Plantain Lily Hostas and some Liriope, along with a couple of ceramic bunnies.  Down in the bottom right are some Coral Bells.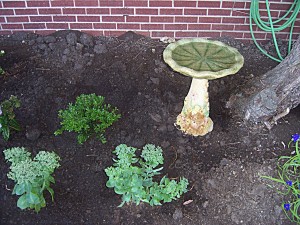 Yes, I gave in to the adorableness of the bunny birdbath.
I've had fun now that I've gotten to start the planting.  It's the wrong time of year for garden shopping though, and it's always tough finding anything that will grow in the shade.
I still have the flowerbed on the east side of the front to finish.  Everything's been removed, uprooted, etc.  Now I just have to move out the block wall and add dirt.  Sounds like a cake mix, doesn't it…just add dirt.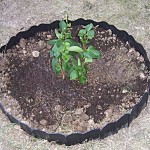 We also planted this in the back yard.  Sam helped.  It's a lilac bush.  It's only about a foot tall so far.  I'm so excited though.  I've always wanted a lilac bush!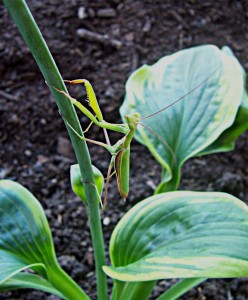 And look who rode home on one of the plants!  It's a praying mantis.  So cool.  I wouldn't have even seen it if I hadn't been planting this hosta at the time.
Sam's been enjoying being a first grader.  Halle's been enjoying being the center of attention all day again.
And now for the mandatory daily dose of yarn…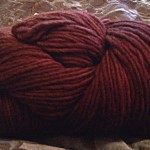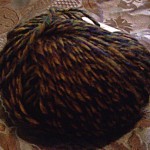 This week I got two skeins of Malabrigo Kettle Dyed Pure Merino Wool, worsted weight, in Red Mahogany.  This yarn really is as soft as everyone said it is!  I love it!  And I got two balls of Berroco Keltic in Peat.  It's way prettier than in the picture.
Here's a sneak preview of the latest knitting project: