I found out a while back that Erm's little brother (and mine too) is expecting.  Or, that is, his wife Becky is.  So of course we had to make some presents for the new baby right?
I made a quick little fleece baby blanket, and some flannel receiving blankets.  Baby fabrics are so cute.  I kept everything kind of unisex, since we don't know if it'll be a boy or girl yet, but I have a feeling it's going to be a baby boy.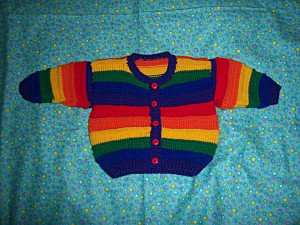 I also knitted this great little sweater.  The pattern is called "Rainbow Colors Baby Sweater" by JoAnne Turcotte.  The ladies down at Ewe Count, my LYS, helped me pick out the pattern and the yarn for it.  They were so helpful, since I had no idea what to make.  I walked in saying "I want to knit something for a baby" and they helped me pick a pattern and the right yarn.  I used Plymouth Yarn Dreambaby DK Solids for all the colors except the orange, which was Sirdar Snuggly DK.  Baby yarn is always super soft.  It was a pretty quick knit but there was a lot of seaming and weaving ends once everything was knitted.  In hindsight, I would've knitted differently from the pattern and used DPN's to knit the sleeves and the lower body in the round instead of knitting everything flat.  Oh well, hindsight's always 20/20.