Been knitting like crazy this past month.  Started off with a nice cabled vest for Halle.  She picked out the yarn herself, Lion Brand Tweed Stripes, and the pattern, "#31 Girl's Cabled Dress" by Amy Polcyn from the Holiday 2010 issue of Knit Simple Magazine. It worked up pretty quickly (just in time for her birthday) and she loves it!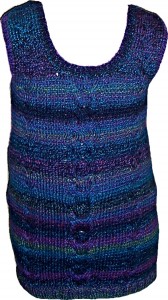 Next came a simple garter stitch cap, made with a not-so-simple yarn.  I didn't use a pattern for this one, simply cast on what seemed like enough stitches for the gauge to create the circumference (in a multiple of 2 of course), worked ribbing, then knit the body of the hat, then started decreasing evenly every few rows until there were only a handful of stitches left.  Then I just drew the yarn through and knotted it off.  Sounds like every generic hat pattern huh?  Easy peasy.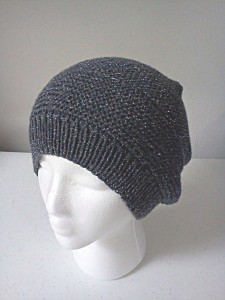 Next came a quick hat for Sam, in Red Heart Super Saver, Forest Fleck.  Only took an evening to finish this one off.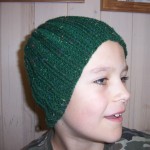 And last but not least, I whipped up another quick hat and then made a little cowl to match.  It's alternating stripes of Skacel's Urban Silk and Moda Dea Dream, which are so incredibly close in color that you can't even see the transitions, and are both sooooooo soft!   This is a great set.