We travelled to Iowa to visit my parents.  The kids had a great time visiting their grandparents.  It was a long trip, but I think it was worth it.
Sam drove the lawn tractor with his Grandpa, with Halle running along to watch.  He had so much fun!  I think it's a memory that will last quite awhile.
Quality Time
Later Halle spent some quality time with Grandpa, reading.  Unfortunately, Grandpa was worn out after chasing kids all morning and needed a cat nap.
Later we celebrated Sam's 6th Birthday!  He got a lot of Legos, a WII game, and a microscope set.
After we celebrated, we left Grandma & Grandpa's house on our long trek back home.  We stopped on our way in Omaha.
Sam was so excited about his new microscope, he couldn't wait to start doing "experiments."  He opened it up in the hotel that night.
The next day was spent at the Henry Doorly Zoo in Omaha.  Check out this gorilla…is he just resting, or does he have a headache?  It's a really nice zoo, and the kids had a lot of fun.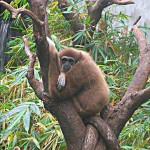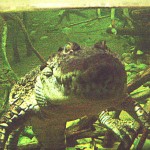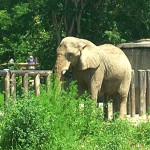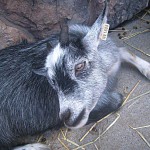 After a long, hot day at the zoo, and a nice cool swim in the hotel pool, we went to bed pretty tired.  First thing in the morning, we started the rest of the drive home.  It wouldn't have been too bad if it weren't for the weather.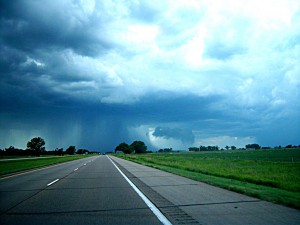 We got hit with a couple of torrential downpours, complete with gumball-sized hail and gail-force winds.  We spent a very scary time under an underpass at the side of the interstate.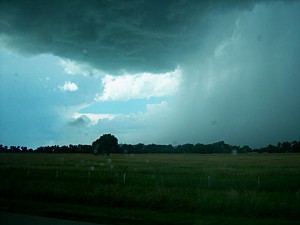 When the rain let up, Sam announced that God had saved his birthday.
After we had to pull over again a few miles down the road in a second downpour, we called Marceil and asked her to pray for the rain to ease up.  That may seem silly to some people, but it did work.  After that phone call, all we came across was light patches of rain, proving once again that Marceil's superpower is the power of prayer!
Wings of Peace Shawl
This is the "Wings of Peace Shawl."  I started knitting on June 2nd, and finished this July 13.  The pattern is by Renate Haeckler.  It still needs blocked, but you get the idea.  It's knit with Caron Country in a light gray yarn with a silvery sheen.