Halle says: "This is Phillie.  He's a girl.  When he turns into a moth his name is still Phillie."
Halle was so excited to find this little fuzzy caterpillar in the backyard.  She was so gentle with it.  She makes friends everywhere she goes!
And here's another thing that made me happy today…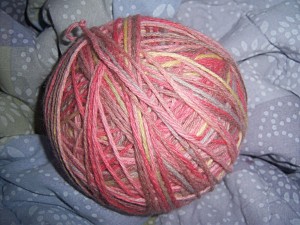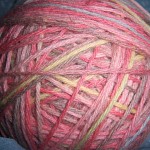 This is some Fishermen's Wool that I dyed with KoolAide.  It didn't take the dye as well as other yarns do, so it came out pastel.  At first I was disappointed, but now that it's dry I really like how it turned out.  One of those "happy accidents."  And my hands are almost back to normal color again after the dying, so that's good.  Now I just have to decide what I want to make with this yarn.